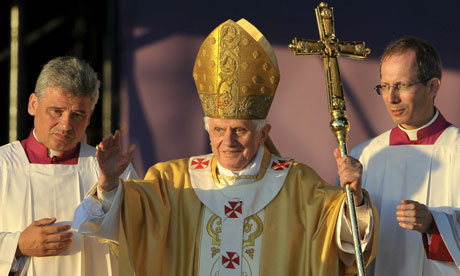 Well that was interesting.
No telling why he's hanging it up. Being Pope must've been a pretty swell job once upon a time. But given the recent child rape scandals and the financial shenanigans involved, it suddenly became a very different gig.
Given that Pope Panzerfaust was at the heart of covering up these scandals, I guess I don't have too much sympathy for him.
Still, he was widely seen as a place holder pontiff anyway. Someone to bridge the gap after JP II.
The question is, the Church has been given an opportunity to re-invent itself for the 21st century. Hell, for the 20th century.
Whom they pick as their next pope will go a long way towards telling us whether the Catholic hierarchy intends to confront their past sins and make amends or continue to walk blithely down the path of denial and ultimate irrelevancy.